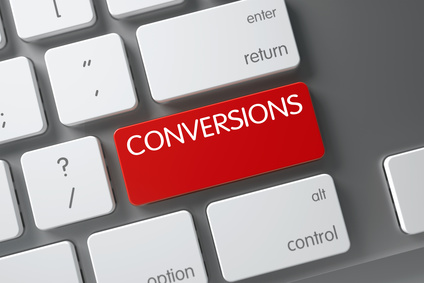 When reports show that key performance indicators (KPIs) aren't meeting their targets, it's important to be able to identify what happened and what can be done for improvement. Large changes to conversions can be very encouraging if they're going up, but if they're going down, there's clearly a need for analysis and change in strategy.
Automatically monitoring KPIs can help to clearly identify what may have caused conversion change. Several KPIs are commonly monitored such as total clicks, CPA, ROAS, and total conversions. None of these metrics exist in a vacuum. Reports through Data Studios can help to show how metrics are interrelated.
Diagnosing Conversion Changes
Changes to conversions happen either because your clicks went up or down or because your conversion rate changed. You'll need to isolate where changes to conversions are occurring, such as from multiple ad groups or a single campaign. Evaluate trends over the course of a year to see how current trends compare to the prior year. Determine if conversions fluctuate during certain seasons, or whether something else may be causing changes in desired results.
Look at the Change History in your Google Ads or Microsoft account. Were changes made one to two weeks before or after the time that conversions started to drop?
Looking More Closely at Conversion Data
Over the past couple of years, Google has made some changes to match types, so it's a good idea to analyze keyword and query changes and loom at how your queries have changed with match type changes. You may need to use pivot table analysis to evaluate this information.
Your analysis may uncover information such as:
Top keywords may have been added to additional ad groups

Top keywords may have fallen in position

Impressions have switched from one ad to another and aren't converting as well

RSAs are showing in different formats 
If you use automated bidding, problems such as broken conversion codes or a conversion tracking change can trigger issues with the system's data. Broken links in ads can make conversions decrease.
Fixing Any Problems
After analyzing your data, make a plan to fix any problems you find. You may need to add negative keywords, add search terms as match types or do ad testing. If your analysis shows positive trends, figure out why conversions are improving and see how you can use this information in other ad groups.
The important thing is to continually monitor KPIs so that you can identify and isolate changes in conversions, whether they're good or bad. As long as you stay on top of your conversion trends, you can do more of the things that are working and diagnose and fix any problems as needed. 
If you're seeing a change in conversions and need expert assistance with bidding strategies, data analysis or any other aspect of digital marketing, get in touch with Softline Solutions. We've helped hundreds of companies develop a strong online presence and we'd like to do the same for you. With our help, you can truly meet your online potential.