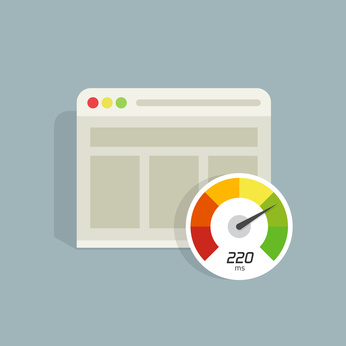 The speed at which your visitors can access your content matters. In a world that's becoming more and more fast-paced, website visitors are likely to click away from a site that doesn't load in a matter of seconds. You can lose as many as half of your potential customers if the site takes too long to load.
Page speed can impact everything from user experience to Google marketing campaigns to search engine rankings. Marketers need to be aware of page load speeds on smartphones and tablets as well as laptops or desktops. Web pages must be optimized for all devices, especially since as many as half of all web searches are done on a mobile device.
User Experience
The overall user experience when your site is visited, whether on a PC or a mobile device, can affect the audience's impression of your brand. Users who encounter slow page loads or a frustrating check-out experience will not only click away but won't return to the site which can result in increased abandonment rates and decreased revenue.
If your website isn't easily and quickly accessible by all devices, users may leave the page long before it finishes loading. Keep in mind that even though internet speeds are increasing, not all users will have access to increased speed.
Google Marketing Campaigns
As a marketer, you're probably aware that page speed is a factor in Google's ranking algorithm. You might think this only applies to SEO, but it also applies to PPC campaigns.
Google expects that users who find your site through a Google marketing campaign have a positive landing page experience. Google analyzes the landing page experience of people who arrive at a landing page using a combination of human evaluation and automated systems, and this analysis affects your Ad Rank and your CPC.
Finding Your Page Load Speed
Making sure your web pages load quickly is an important part of an effective marketing strategy. Google makes it easy to see where your website stands with its free tool Page Speed Insights. This tool can check the performance of both PCs and mobile devices along with offering suggestions on how the page could be improved.
The performance of different metrics is analyzed. A score is provided which summarizes the performance of the page. A score below 50 is slow while medium speed pages are given a score between 50 and 90. If your page scores 90 or above, your page load speed is considered fast.
Expert Marketing Help 
Page load speed is a key factor in the credibility of your brand and is important regardless of what type of business you're running. Improving your page load speed can make a big difference in the success of your website or blog.
If you need help with page load speed, graphics or content, get guidance from the experts at Softline Solutions. With our help, you can improve your UX and marketing results so you can realize your online potential.