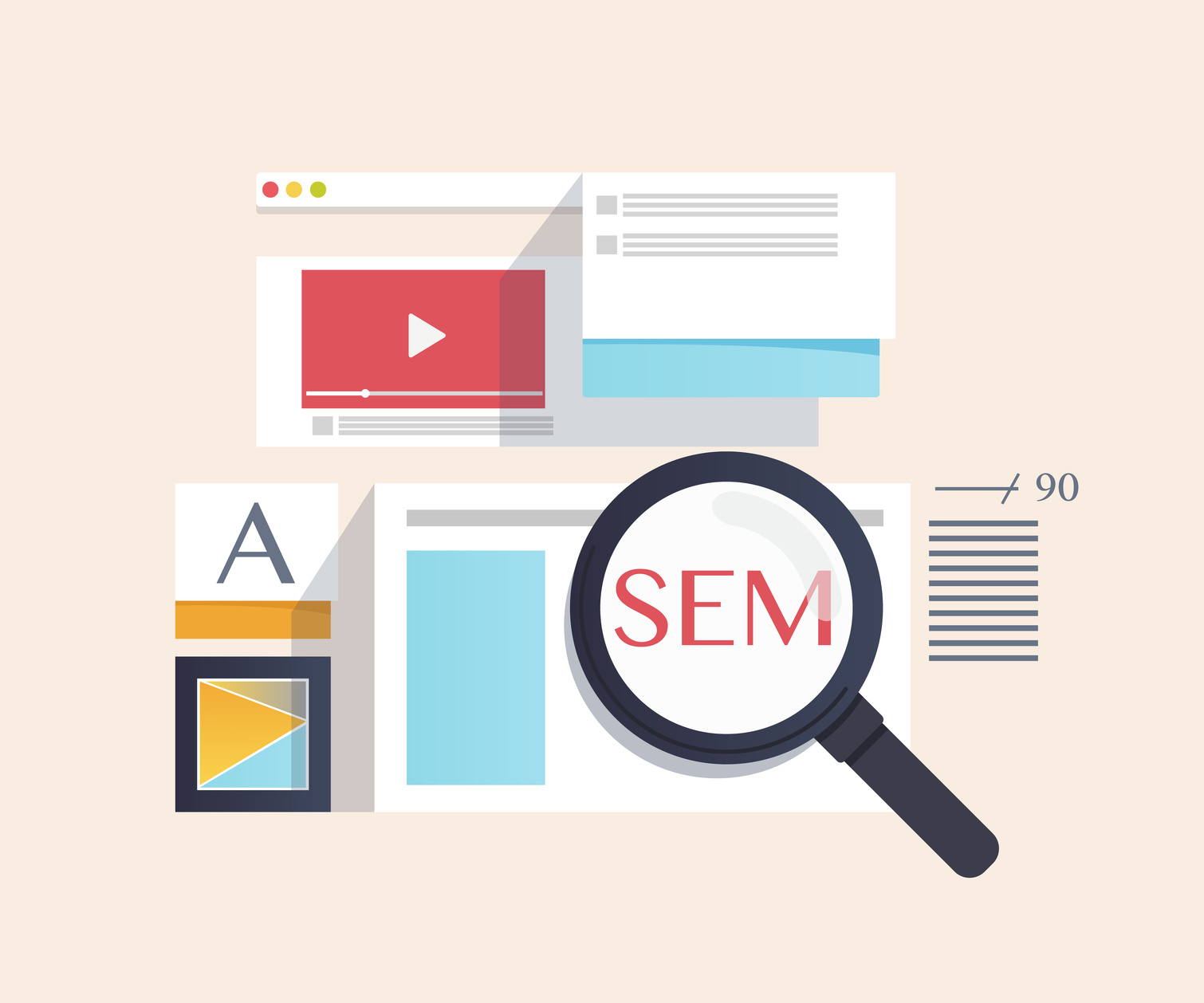 In today's online marketing world, knowing what practices and techniques provide the most effective and long-term results is key in staying ahead of the competition. You can increase your return on investment (ROI) by implementing the right search engine marketing (SEM) strategy and selecting the best attribution model. Read on before discussing options with your team.
Why SEM Tools Are So Important
The right SEM tool or software improves efficiency as well as productivity. It allows you to manage daily ad groups, keyword lists, bidding, and ad copy in a more effective, streamlined way so you spend less time on optimization and manual reporting. A platform that acquires data in one convenient place makes it easy to gain the insights necessary for improving performance. The right tool also helps you make better marketing decisions because you will stay up-to-date on the latest search engine requirements, tracking methods, and ad formats. Since these things change on a continual basis, the more information you have, the better able you will be to serve your ads to the right consumers.
Some Of The Best SEM Tracking Software, Explained
Consider any of these SEM tracking models to gain essential marketing insights:
Funnel Science
This predictive platform offers the user-friendliness you want, especially if SEM tracking is a relatively foreign concept to you. Funnel Science provides agencies as well as individual brands with SEM management, digital marketing analytics, and consulting services in combination with real-time PPC conversion tracking, ROI optimization, and social media and SEO campaign assistance. Among these key features, this platform offers A/B landing page testing so you are always providing the best pages to intrigued consumers, as well as retargeting, e-commerce and shopping data feeds, and sales funnel strategies.
Yext Pages
Yext Pages offers location data management solutions to companies of every size. The idea is to increase digital interactions and subsequently foot traffic and sales, as well as overall brand awareness. You'll manage location data across your website or websites, as well as your internal systems, mobile apps, directories, social networks, and search engines. The software's SEO-optimized local pages, mobile screens, and locators transform site visitors into store visitors by helping customers find the store locations closest to them. There's also Yext Screens, which provides your company's mobile app with detailed location info, all of which is optimized for iOS 9 searches.
Nexternal Solutions
This web-based e-commerce software includes a shopping cart that is extra search engine-friendly so you can sell directly to your consumers. If yours is a business-to-business operation, you can still use this shopping cart because it distinguishes between customer types. The idea here is to increase revenue without the spike in advertising costs.
SambaSaaS
Another marketing automation option for brands, franchises, and small businesses is SambaSaaS. Use it by itself or in combination with WordPress or SeoToaster-powered websites for search engine optimization that's on par with your budget. Among the many services this SEM software offers is email marketing, press release distribution, call tracking and social media calendar curation.
Moz
Moz is a web crawl app that–surprise!–crawls your site every week and lets you know what issues are affecting your performance. The app also monitors the keywords your audience uses most so you can spend more time optimizing. Other software perks include competitive analysis so you know what your competitors are up to and gain that coveted first search engine page edge.
Finding The Right Attribution Model
In addition to utilizing SEM tracking software, it is a good, no, great idea to select a marketing attribution model for your business. Attribution modeling refers to understanding and giving credit to the acquisition channels that turn leads into conversions and sales. Make this important decision easier with these tips:
Create A Map Of The Customer Journey: Work with your team to brainstorm what your customers go through during each phase of the buying process. Keep channels and interactions in mind as you work, and think about why consumers buy from your website. Also consider what occurs prior to making purchases, what inspires your customers to make purchases, and subsequently which acquisition channels are ideal for your investment.
Pay Attention To Lead Quality: Determine at what rate consumers become active site users and how quickly they became paying customers.
Don't Forget About Campaign Objectives: Keep your campaign objectives in mind, as they should be among the most important pieces making up your attribution model. If yours is a branding campaign, for example, a first-touch model could be ideal. Conversely, if yours is a limited-time promotion, a time-decay model is likely best.
Be Versatile: Stay flexible throughout this process, as you will be testing, optimizing, and changing attribution models as you go. You may have to change the model entirely depending on your marketing needs.
Review The Four Main Types: Go over the four main attribution types with your team as you determine what is right for your brand. These types include online-offline, multi-channel, real-world, and multi-device. Each offers specific benefits in relation to your marketing goals, for example, online-offline attribution determines how online advertising impacts store foot traffic and sales, and vice versa. Multi-device attribution, in comparison, focuses on how devices such as laptops, smartphones, smart TVs, and tablets affect conversions.
Wrapping Up
After taking in this much information, it is normal to feel a little overwhelmed. However, it is important to remember that increasing brand awareness, site traffic, conversions, and revenue is an ongoing learning process. Don't try cramming as much information as you can about SEM tracking and attribution models into your brain at once, rather assign tasks to your team so you learn together as your brand grows. Experimentation through A/B testing and similar practices provides the insights you need to formulate a winning marketing plan.
Need a little help with online marketing? Contact us at Softline Solutions. Increasing brand awareness for the companies we serve is our continuing mission and one we do quite well.