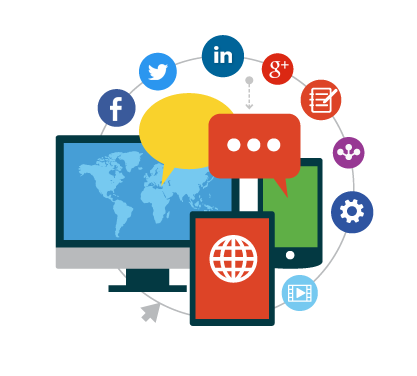 Technology continues to change and evolve at an amazingly rapid pace. Learning new techniques and technologies may feel like a juggling act at times as you try to pay attention to changing Facebook and Google algorithms, along with changes in PPC, marketing automation and SEO strategies.
For your digital marketing campaign to remain effective in 2020 and beyond, it's imperative to stay up to date on upcoming trends. What are the digital marketing trends you should be aware of as we enter a new decade?
Personalization
Personalization is becoming increasingly important as a marketing tool. Consumers have little or no interest in seeing generic ads that aren't related to what they're looking for, and they're coming to expect that the ads they see will be geared to them.
For marketers in the upcoming decade, this means paying attention to insights into who your customers are, their behavior patterns and buying intent. By increasing the relevancy of your ads, your customers are more likely to have a positive response to your marketing efforts, because personalized ads can help make them feel you're speaking directly to them.
Voice Powered Search
Voice assistants in smartphones and devices such as Google Home or Amazon Echo help consumers with a multitude of search functions, and an increasing number of people use voice-activated devices as part of their daily routine. Businesses need to rethink their digital strategies to include being found via voice search.
In the coming decade, the number of searches performed by voice search is likely to continue to dramatically increase. Marketers need to be aware of this trend and optimize web pages for voice search using long-tail keywords. Producing audio content can help to improve brand awareness. Think of keywords users may speak rather than type and write in a conversational tone.
Video Content
Video marketing isn't new, but in the coming decade, it will become an even more important marketing tool. Using video to promote your products or services can reach new prospects and increase engagement with existing customers. Video dominates social media, and live videos on Facebook Live or Instagram Live often draw more interest than recorded ones.
Shoppable Posts
As we move into 2020, social media continues to be a huge part of any digital marketing strategy. There's a growing tendency for people to use social media to search for what they're looking for, and shoppable posts make it easy to tag posts with products. This is a great way to drive traffic to your product pages.
Social Messaging Apps
The power of social media as a marketing tool won't be slowing down or going away any time soon. The new decade brings an increase in the use of social messaging apps such as Facebook Messenger, WhatsApp, and WeChat. There's an increasing trend toward communication on these apps between businesses and customers. 
Businesses use these apps to build relationships, educate customers about their products and provide customer service. It's a very personalized form of marketing, and many customers like being able to have direct contact with businesses.
Augmented Reality
Immersive technology such as augmented reality (AR) and virtual reality (VR) continue to grow in popularity. The expected trend is for AR to outpace VR. This technology can allow users to interact in a 3D environment and to envision the benefits of using a product. This is a powerful way for businesses to enhance customer experience in 2020 and beyond.
Smart Bidding
Recent updates to Google Ads indicate that PPC account managers can anticipate automation and smart bidding to be the trend in the new decade. Google smart bidding uses machine learning to help make more accurate predictions and optimize for conversions. Reporting tools offer additional insights into bidding performance and this automation can improve performance and save time.
Artificial Intelligence
Artificial intelligence (AI) continues to evolve, creating huge opportunities for improved communication and for businesses to understand how customers find their products and services. This growing technology analyzes behavior and search patterns and is the driving force behind services such as chatbots and product recommendations. AI can help businesses cut costs and attain a competitive advantage.
Predictive Analytics and Augmented Analytics
Predictive analytics is becoming more and more sophisticated and is being used to identify buying patterns in order to predict what's likely to happen in the future. It's a great tool for increasing personalization and targeted marketing.
Machine learning and natural language processing are used to enhance data preparation, analytics and business intelligence in augmented analytics. This form of analytics uses machine intelligence to help people and businesses work smarter and faster. 
Content Marketing Dominates SEO
In the coming decade, content marketing will continue to be an important tool for demonstrating your expertise to both potential customers and existing customers. When high-quality content is used strategically, it continues to be a marketing method that dominates SEO so that your brand can be found in search engine results. 
Content marketing will continue to be an important tool for generating leads. Well-researched and regularly updated content can help your business build authority so that your audience will see you as a trusted resource. The trend in content marketing in 2020 and beyond is long-form content along with videos and interactive content.
Digital Marketing in the Coming Decade
Digital marketing is being transformed by the rapid progress of technology. Machine learning, AI, immersive technologies and automation are changing the way businesses interact with their audiences and analyze data. These trends are extremely powerful as long as you keep up with them. Strategies that have worked up to now may not be as successful as they've been in the past.
It can be overwhelming to plan a digital marketing strategy that keeps pace with continually changing trends. If you need professional guidance with your digital marketing, whether you need help with PPC, analytics or interactive content, contact the experts at Softline Solutions. We can help take the stress out of digital marketing changes, and with our help, you'll be able to realize your online potential.