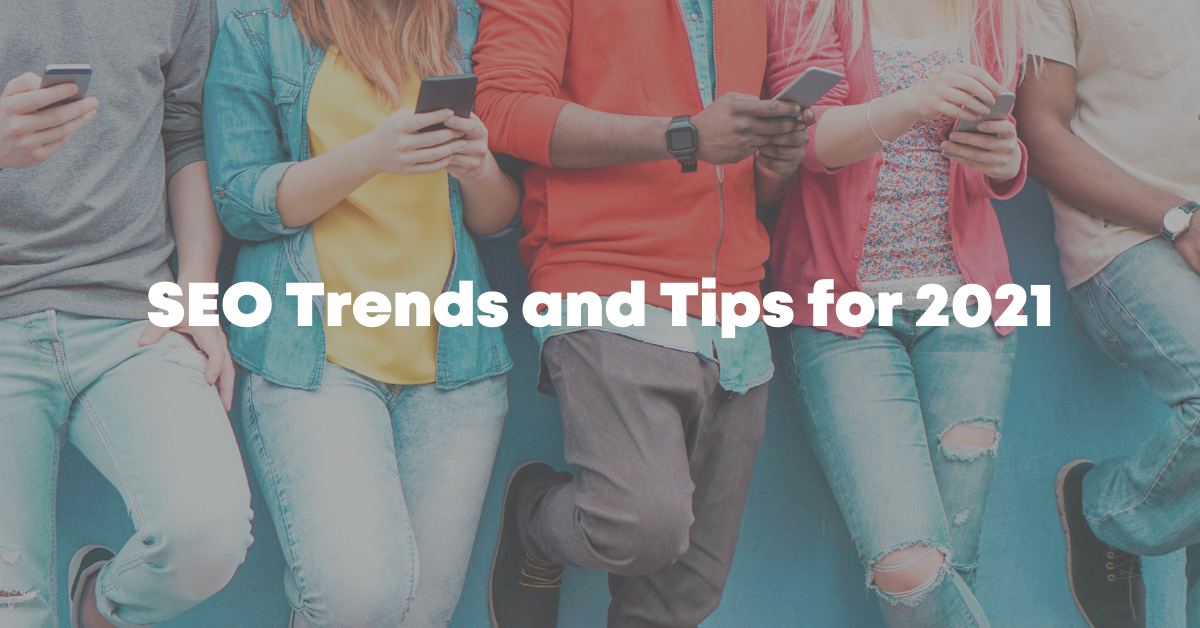 Introduction
Organic search drives more than half the visitors for both B2B and B2C websites. It's a reliable way of bringing in targeted traffic. You may promote your business using other methods such as paid ads and social media, but SEO is still one of the best choices for marketing businesses both large and small. 
The one thing you can count on in the world of search engine marketing is that things are constantly changing. Remaining competitive depends on paying attention to new trends. Organic traffic only works when you rank well, preferably on page 1 of the search engine results page (SERP). For SEO success, you'll need to keep doing what's working, modifying what needs improvement, and staying on top of the latest trends. 
Focus on User Intent
Google and other search engines are driven by the desire to produce the most relevant results for searchers. Their efforts to deliver better results often mean enhancing their technology, including the use of artificial intelligence to improve their ranking algorithms.
Thinking about your target audience and what they're looking for isn't new, but since the intent and behavior of searchers is always changing, every year it's important to focus again on user intent. The top results of the SERPs give you a pretty good idea of what people are really looking for when they search for a certain keyword. These are the results that most closely serve user intent for a particular word or phrase.
Your website content should focus on the visitors' needs and creating the type of content they respond to. This may include text, infographics, podcasts, videos, etc. Pay attention to the behavior of your target audience and work on figuring out how to get them to increase response and engagement.
Clarification on user intent also includes knowing where the prospect is in the sales funnel. Their intent may be simply to get information, which could be a simple answer to a question or a deep dive that includes detailed explanations. Their intent may be to come to a decision about a purchase by comparing products, or they may be ready to buy.
Measuring User Experience with Core Web Vitals
Core Web Vitals are metrics used for measuring user experience (UX). Google seeks to rank pages that offer the best information, but at the same time, they're evaluating the website experience of users related to page loading speed, visual stability, and responsiveness. Using Google's Search Console, you can see how your site measures up in this area along with suggestions on making improvements.
Search engines are recognizing that users don't return to websites when they have a bad user experience, including their mobile experience. This makes UX testing a vital part of digital marketing in 2021.
Advances in AI for More Relevant Searches
Recent advancements in artificial intelligence are making it even easier for searchers to find what they're looking for. Google continues to invest in language understanding research. This has led to the introduction of Bidirectional Encoder Representations from Transformers (BERT), which focuses on natural language processing (NLP). 
Instead of taking words out of context, BERT has the ability to get a better idea of the full context of a word by looking at the words that appear before and after it. This can help to clarify and interpret the intent of the searcher. It's especially useful in understanding longer conversational-style queries.
Pinpointing Passages
Google is now able to index not just pages but passages within pages. This means that a single paragraph of information can be found in the midst of several other paragraphs on a page, helping searchers find the specific information they're looking for. This reveals more about searcher intent than ever before and may help you get found for specific content.
Optimizing for Featured Snippets
One thing Google is continually working on is serving answers to searchers more quickly. Featured snippets offer a great way to boost pages to the top of search engine results. A featured snippet is a brief answer to a query from a user's search and it can be in the form of different types of content, such as a paragraph, list, chart, or table.
A snippet provides the basics, but a reader will need to click through to the page for more thorough information. The higher your content ranks, the more likely it may get a featured snippet. If you're able to land a featured snippet, it can give you an advantage over competitors.
Keyword Research in 2021
Keyword research is more important than ever. With so much competition, it's important to find keywords that drive traffic for your business. Keyword research can help you decide what topics to cover and what keywords you should use to help seekers find your content. 
Take the time to search a keyword in Google before you create your content. The highest-ranked pages are the ones that most closely match the user intent of people searching for that term.
Some tools to use for keyword research include:
Use Long-Tail Keywords
While single keywords may have worked at one time, the trend in SEO is to focus on long-tail keywords. Think about how your target audience would search for what they want. Chances are they'll use more than one word to describe it. Google's goal is to present searchers with the content that most closely matches their intent. Long-tail keywords are combinations of words that are usually three to five words long, and they match the types of phrases visitors use when they search. 
Voice search is becoming more and more common, and when using voice search, people use multiple words to describe what they're looking for. People who search using voice are looking for something very specific, which means they may be likely to convert.
Sub-Topic Discoverability 
As search engine results continue to get more and more precise, sub-topics become a more important way to provide a broader range of content. Break up your content with intriguing subtopics and use long-tail keywords to have your sub-topics discovered by searchers. 
Long-tail keywords tend to have low search volume and low competition. This means pages that rank for these keywords are likely to closely match searcher intent and have a high conversion rate. The long-tail keywords you choose don't have to be continually repeated in the content. Support your keywords by using related phrases.
Content Length: Short or Long?
How long does your content need to be? You may have heard that the current trend in content marketing is to write long-form content and that blogs containing posts of at least 2,000 words consistently outperform those with shorter posts. It makes sense to provide long-form content when visitors need some education about your product or service, and long-form content is a way to provide detailed information to prospects early in the buying cycle.
This style of content allows you to dive deeply into a topic and cover it thoroughly. It helps let readers know that your brand is the one that can answer their questions.
But, does ALL content need to be long? While long-form content can help to establish you as an authority in your niche, not all content should be long. Don't try to force a post to be long for the sake of being long.
The best content marketing strategy makes use of both short and long content. A good example of short but useful content is an FAQ page. On this type of page, short answers to questions cover the basics but can link to long pages that go into much more depth. This is another example of how searcher intent needs to be considered. Sometimes readers just want a quick answer to a question, and short content makes more sense for at least some of your posts.
Making Strategic Changes to Content
When it comes to content, the first step is to be providing high-quality original content that's useful to readers. It should be interesting, accurate, and unique, not something dashed off in a hurry. If your content isn't ranking as well as you want it to, you may be surprised how much of a difference small strategic changes can make.
Besides working to provide the highest quality you can, spend time getting things right such as the title, subtitles, and file names of images. Your rankings may benefit from tweaking things such as:
Page titles

– Title tags should be descriptive and unique. Put your most important keywords first. Try small tweaks such as changing dashes to vertical lines. Avoid using all capital letters.

Content headers

– Test different approaches to content headers. If the headline is boring, readers never make it to the first line of your content.

URLs

– Keep URLs short since short URLs have a slight ranking advantage over long URLs.

Writing style and word choice

– Consider who you're writing to. You'd probably speak differently to senior citizens than you would to teenagers, or to CEOs than to recent college graduates.
Remember that you're writing for people, not search engines. If people aren't responding to your content, consider whether your word choice and style make sense for your audience. Your content may need to use a different tone. In many cases, it needs to be more conversational and less formal. Keep revising pages to try to meet the needs of searchers.
Leave Well-Ranking Pages Alone
If some of your pages are already ranking well, it's probably not necessary to keep tweaking them. Continue to keep an eye on their performance, but as long as they're doing well, your energy may be better spent improving other pages and letting well-ranking pages continue to work for you. If you decide to take a chance and make some changes, watch closely whether the changes help or hurt your rankings.
Backlinks are Still Important
Backlinks are still a ranking factor in 2021. Pages that have a lot of backlinks from multiple different sites often rank higher than pages that don't have many. Guest blogging is one effective strategy for link building, and you might encourage backlinks by creating content on trending topics. 
Do extensive research on your chosen topic and write a post that's more in-depth than the top-ranking post for your keyword. Link out to authority blogs. If you contact the owners of authority blogs mentioned in your post and ask them to check out your post, they may link back to your post. Having influencers coming forward to support your brand can make a big difference in your ranking.
Don't Overlook Video Marketing
If you don't know where to find your target audience, there's a good chance you'll find at least some of the browsing content on YouTube. Many people would rather watch a quick video than read a page of content. 
Video marketing continues to be an important digital marketing strategy, which isn't a surprise since YouTube is the second largest search engine in the world. In 2021, videos will continue to rank prominently on SERPs.
Since videos are continuing to rise in popularity for both people and in search engine algorithms, work toward producing more video content. Optimize your video channel name and description. You may be able to boost your SEO results by adding a transcript to videos. 
Consider engaging your audience by using live videos on social media.  If you need help deciding what to make a video about, type some keywords into YouTube's search box. The auto-complete feature will give you an idea of what people are searching for related to your topic.
Optimize Your Images
Images help break up too much text and keep readers interested. Using relevant images placed near related text can also help readers understand what you're writing about in your content. Visual search is getting increasingly important, so if you're not optimizing your images, it's time to start. 
Use keywords in the file names of your images. Add captions when it makes sense to do so, since readers who skim over pages may read image captions. Use keywords in alt text, the text that displays if for some reason the image doesn't.
Analyze and Improve Page Load Speed
Your site speed is still a factor in how well you rank. If your site loads too slowly, people may click away before they even see your content. There are several different tools that can help you check the speed of your site. Start with Google's PageSpeed Insights. This tool analyzes the speed of a page and makes suggestions to make it load faster. Another tool that can check how fast your website loads and reveals reasons for slowness is GTMetrix.
Mobile-Friendliness is a Must
How easy is it for people to navigate your website on mobile devices? Your site needs to be responsive on all devices and platforms, from smartphones to tablets to laptops to desktops. It should work just as well whether users are on Android, iOS, or Windows. As many as 9 out of 10 people use a mobile device as their primary device for web searches, so mobile-friendliness isn't optional.
Find out whether your site is mobile-friendly by using Google's Mobile-Friendly Test. Another place to look is the mobile usability report in the Google Search Console. Some things to work on if you need to improve your speed for mobile include using easy-to-read fonts, eliminating popups, and avoiding posting content that contains large blocks of text.
Keep Improving with Google Analytics
Google Analytics is an invaluable tool for tracking data about visitors to your site, which can give you clues about how well your SEO strategies are working. You'll be able to review a lot of different data, such as the performance of your keywords, which pages are visited most often, and how visitors ended up on your website. You can also check page loading times, bounce rates, and redirects.
Make sure site search tracking is enabled in Google Analytics. Under the Behavior heading, look for Site Search. This can help you to understand what keywords people are using when searching within your website.
Is Google Crawling Your Pages?
Take advantage of the information provided by Google Search Console. This free tool provides important information that can help you optimize your content, such as which keywords your content is ranking for and whether Google has reached key pages. You can get a good idea about the performance of your pages including total clicks and average click-through rate as well as the average position of your site. 
If you find out Google isn't crawling your pages, review your internal links. Find ways to link to pages that haven't been found by Google.
Quality Content Needs to Include SEO
We've come a long way from the days when keyword stuffing led to high rankings on SERPs. Quality content engages and intrigues your audience. It's authentic, accurate, and comprehensive. It keeps your site visitors interested and makes it more likely they'll stay on your site and continue to explore what's there, and it can help you to earn backlinks, a factor in improving your page rank.
While quality content is hugely important, great content without SEO is still content that isn't likely to rank highly. The top-ranking posts don't always consist of the highest quality content.
Well-written articles sometimes need revisions to the title or content header for better optimization. Keep reviewing ranking and organic traffic data to see if small tweaks help your content get found more easily.
Google prefers content that includes Expertise, Authority, and Trust (E-A-T). Content pages that include these three factors are considered more trustworthy than those that don't. This is a guideline that helps Google to prevent sites with low-quality content from reaching the top of the rankings. 
Conclusion
As you plan your 2021 SEO strategy, remember that the metrics of SEO are constantly changing, and Google is continually updating their processes. For SEO success, you need to use traditional SEO tactics such as keyword research and familiarity with your target audience. You also have to keep up with more recent trends such as video marketing, mobile-friendliness, and the impact of AI.
The constantly changing nature of search engine algorithms means that getting your content to rank highly requires persistence and some trial and error. Make time to optimize and improve your content, especially pages that are close to ranking on the first page of Google SERPs.