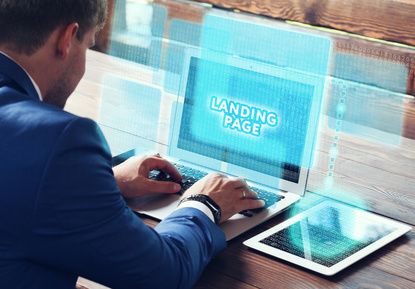 A robust PPC landing page is an essential ingredient in your marketing strategy stew. They should inspire your target audience to take action, whether it's visiting your website for the first time, or purchasing one of your products or services. Create landing pages that get the results you want by putting the following five tips into practice:
Tip #1: Don't Overwhelm Your Visitors
Avoid creating too much landing page "clutter," as it can overwhelm your visitors and make them look elsewhere for products and services. Refrain from using more than one call-to-action, as one is plenty. Place your opt-in box on the right side of the page instead of the left, as research indicates right-aligned boxes do the conversion thing better than left or center-aligned boxes. If your PPC landing page features images or videos, make sure they load. Keep design space dimensions in mind, as well, to sidestep creating a landing page that just looks, well, weird.
Tip #2: Create Visuals That Match
Build landing pages with visuals that match the copy. Steer clear of stock photos that may or may not have something to do with what you're promoting, even if they are high-res and somewhat interesting. Go for images that show people using your product or service. For example, if you are promoting your makeup brand's latest lipstick, use images of happy customers applying it before an exciting night on the town.
Tip #3: Give a Lead Magnet Away
Give something away when creating your next PPC landing page, even if it makes you cringe a little. If you wouldn't charge for the product or service you are giving away, scrap the idea in favor of something you would charge for. Why? It's a great incentive that attracts your target audience and gets people interested in your brand.
Tip #4: Position Your Web Form Correctly
Place your landing page form above the fold, so it blends with your design in a natural way and does not require scrolling to get to it. Make it stand out so it is the first thing visitors see and want to do. The color scheme, buttons, and typography should match the rest of the landing page.
Tip #5: Test Everything
Give your PPC landing page a test run before letting it go live. Test the web forms, ensure leads are put on the right lists, and check autoresponders so they are delivered correctly. If your landing page does not function properly, it will not matter how on-point everything else is.
Keep these tips in mind to secure the site visitors and conversions you want. Start from the beginning if you have to (we hear it's a very good place to start) and work from there to create conversion-friendly pages. Contact Softline Solutions for help with more landing page and digital marketing strategy.